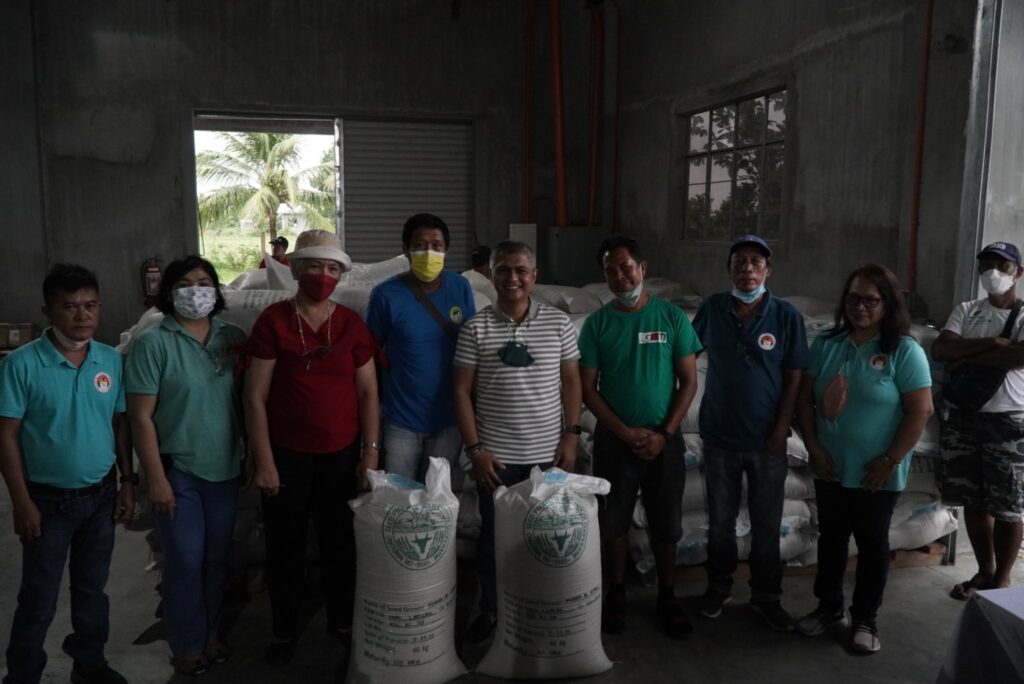 A total of 2,448 bags of certified rice seeds of good eating quality were distributed by the Provincial Agriculturist's Office to rice farmers coming from the different municipalities of Oriental Mindoro. This is part the Mindoro Rice Branding Program of the Provincial Government that aims to further increase the production of Mindoro Rice and strengthen the province position as the foremost supplier of this aromatic rice, popularly known as dinorado.
Among the rice varieties that were distributed are Rc218, Rc18, Rc436 and Rc160, these varieties are notable for its aroma and taste. The distribution was conducted in May and early June 2022 to coincide with the start of the wet season cropping. To kick-start the distribution, a simple ceremony was held at Brgy. Santiago, Naujan on May 31, 2022 with no less than Governor Humerlito "Bonz" A. Dolor spearheading the distribution of 550 bags. He is assisted by the Provincial Agriculturist Ms. Christine M. Pine, Mr. Venerando M. Sanchez, Jr. OIC – PAGO Agro Resource Management Division, and Engr. Jefte DC. Bay-ongan, Provincial Rice Coordinator. Among the beneficiaries are members of the Naujan Multi-purpose Cooperative (NAMCO), Santiago Farmers Association and Adrialuna Farmers Association.
The Mindoro Rice Branding program will not only boost Mindoro Rice production in the province but more importantly as well, it provides farmers with access to high quality seeds such as the Certified Seed class which ensures better production yield. Furthermore, the dinorado commands for better market price in both palay and milled rice adding more income to farmers. On top of the distributed seeds, PAGO will also distribute laminated sacks in 5kg, 10kg, and 25kg variations as packaging materials for the marketing of the Mindoro Rice.
Meanwhile, PAGO has also distributed 270 bags of Registered Seeds as part of its Binhian Sa Barangay Program. The Binhian sa Barangay is a community seed banking and exchange program aiming to sustain availability of high-quality seeds. The varieties distributed includes Rc480, Rc436, Rc18, Rc508, and Rc216. These registered seeds will then produce certified seeds which will be re-distributed to other farmer beneficiaries for the next cropping season. (Provincial Agriculturist Office, DMSarabia – PIO)