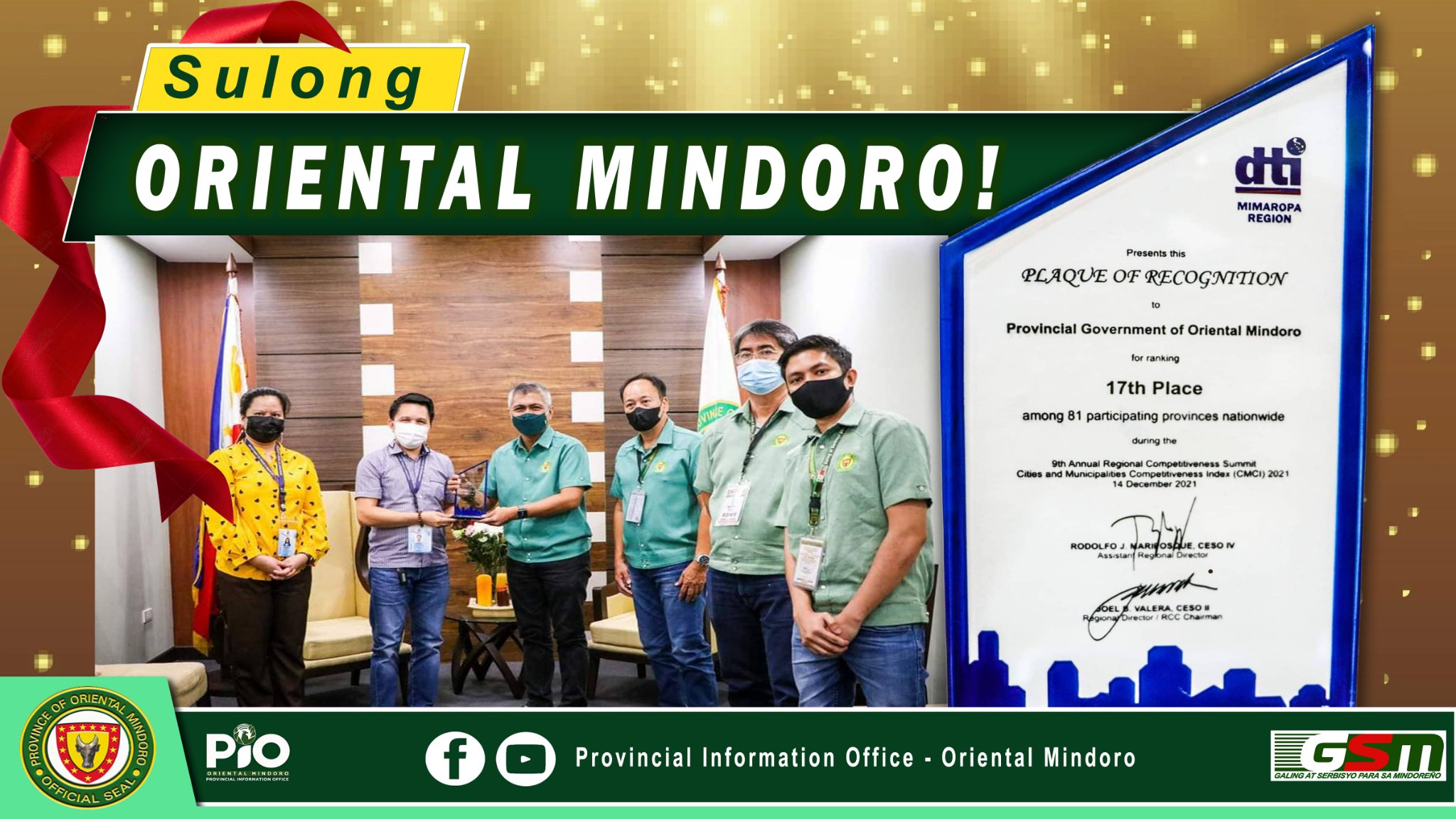 Previously on rank 59th, Oriental Mindoro's nationwide level of competitiveness advanced to rank 17th in the first three years under the administration of Governor Humerito 'Bonz' Dolor. This has been due to remarkable accomplishments in terms of governance, livelihood programs, infrastructures and excellent crisis management especially during this time of Covid-19 pandemic.
The major factor which brought Oriental Mindoro to achieve a big leap in the level of competitiveness was its efficient and effective implementation of PGOM programs and projects in different sectors such as livelihood, relevant infrastructures not only in the provincial level but down to the barangay level, health and precautionary measures to ensure safety of the people during pandemic and good governance.
Oriental Mindoro garnered an overall average of 34.97%.
Apart from population and overall income, the Regional Committee on Competitiveness Evaluation also include the ranking of the city, municipalities and provinces in terms of Economic Dynamism, Government Efficiency, Infrastructure and Resiliency. Contributory in achieving the overall average are the City of Calapan with 25.7%, Municipality of Naujan, 12.7% and Pinamalayan with 10.9%.
"Achieving a high level of competitiveness is a reflection of our collaborative efforts in giving our fellow Mindoreños excellent services and good governance."

– Governor Bonz Dolor, Oriental Mindoro
In 2020, Oriental Mindoro ranked 2nd with the biggest economy in Mimaropa region according to the Philippine Statistics Authority (PSA). Thus in 2021, it has achieved P2.7B income while its population reached 863,839.
With its continuing efforts of pursuing 'Galing at Serbisyo para sa Mindoreño' under the administration of Governor Bonz Dolor, Oriental Mindoro is expected to reach a much higher level of economic advancements in the coming years. (DMSarabia – PIO)